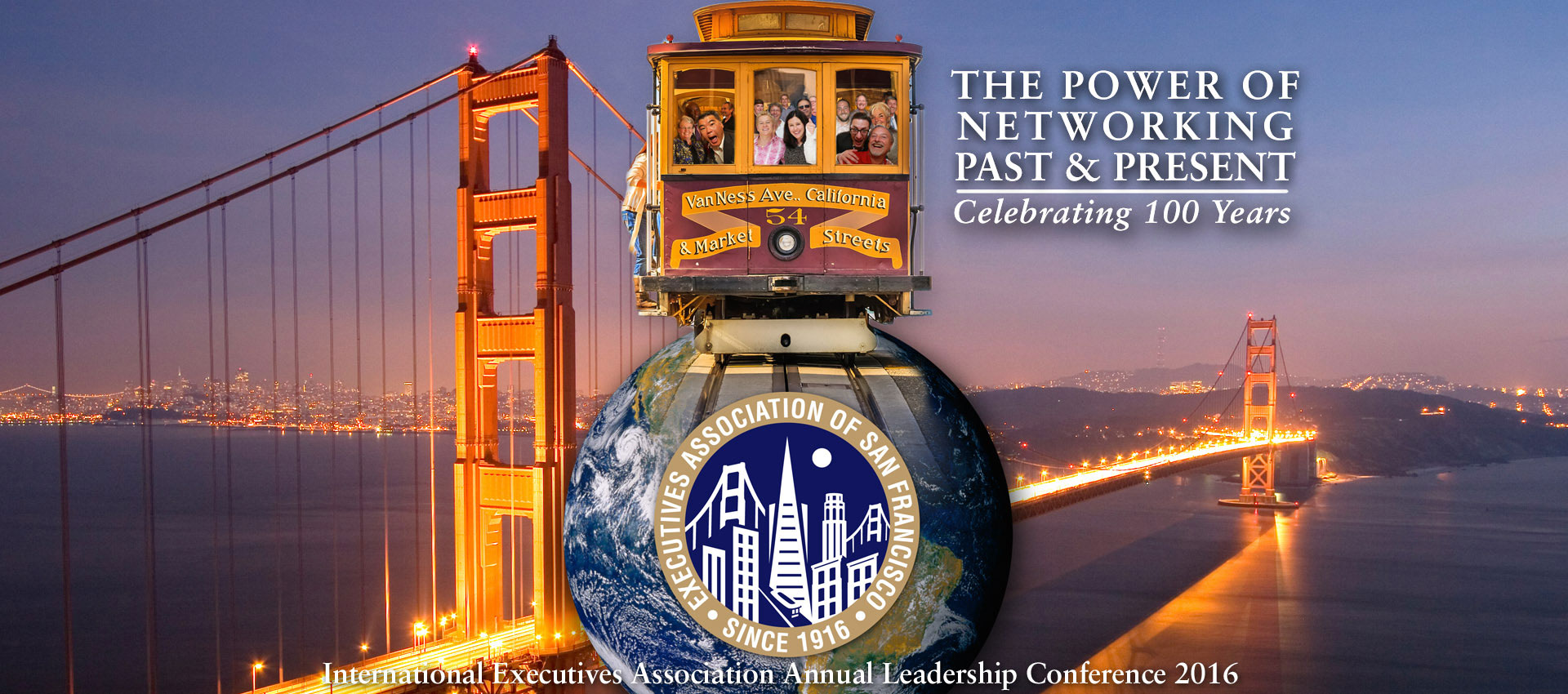 The Power of Networking Past & Present
November 2 – 4, 2016
Location: Hyatt Fisherman's Wharf Hotel, San Francisco
Hosted by the Executives Association of San Francisco. Plan to come to the city where it all began in 1916.
This is a once-in-a-lifetime event. We suggest you plan a vacation around the conference. Come for the networking, business benefits, and leadership training, then spend the weekend experiencing San Francisco and the Bay Area.
The Hyatt Fisherman's Wharf is offering a reduced hotel rate, but space is limited, so be sure to reserve your room early. Cut off date for special room rate is October 1, 2016. We've been able to extend it to October 15!
Agenda and Speakers
Download a copy of the conference agenda.
Wednesday, Nov. 2
Conference Kick-Off Reception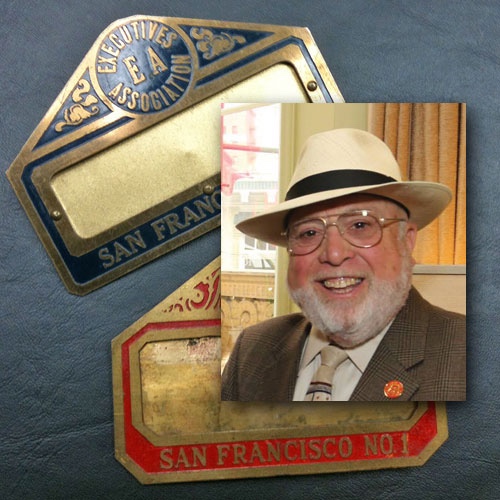 8:00 – 8:30 pm: Joel Panzer, EASF historian
Topic: The History of the Executives Association
How did a fledgling networking group composed of four businessmen in 1916 grow to become an international organization in 100 cities across four continents? Celebrating 100 Years!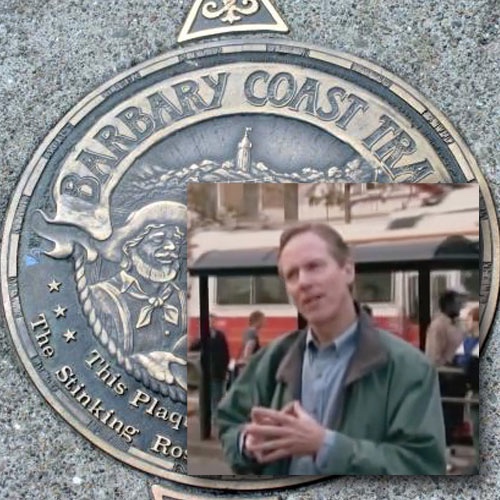 8:30 – 9:00 pm: Dan Bacon, author, historian
Topic: The Days of San Francisco's Barbary Coast
From the days of the Gold Rush and the Barbary Coast, to the 1906 earthquake and the Beat renaissance, San Francisco's history is rich with dynamic events and storied characters. The Barbary Coast Trail® is a San Francisco walking tour that connects the City's most important historic sites, drawing you into a world of gold seekers & railroad barons, writers & visionaries, shanghiers & silver kings. (slideshow presentation)
Thursday, Nov. 3
Conference Day One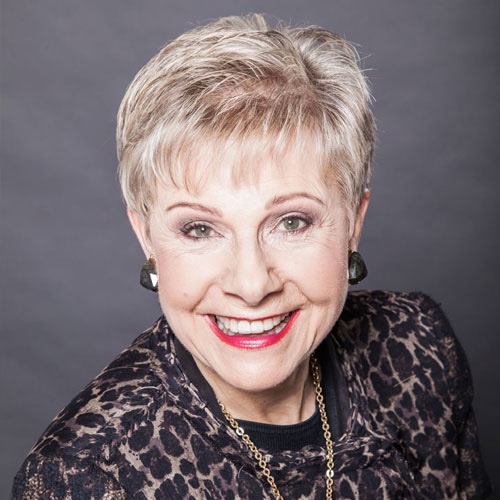 Topic: It is Not Who You Know: Who Wants to Know You?
Hall of Fame keynote speaker Patricia Fripp demonstrates ways to make strong connections in business relations and in your community. Learn how to effectively meet, mingle and be memorable. Watch my video
Friday, Nov. 4
Conference Day Two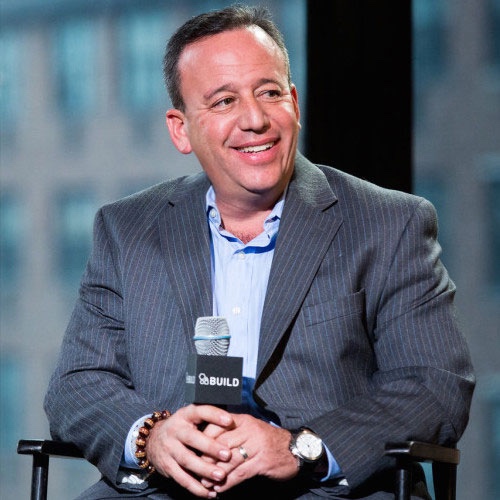 Topic: The Nth Power of Networking
David is considered one of the pioneers within the ever-changing online world of technology. Early in his career, David was an executive for several technology companies, including Westlaw, Thomson Reuters, Everypath, Accenture, and the PC-E Phone. David was responsible for the launch of the world's first smartphone, the PC-E Phone manufactured by Samsung. He is currently the Chief Executive Officer (CEO) at Sports 1 Marketing, a firm he co-founded with Hall of Fame Quarterback Warren Moon. He oversees all day-to-day operations at the firm, where his relationship capital and situational knowledge has been crucial in delivering his client's marketing and endorsement potential enabling him to secure diverse business opportunities for all his clients and partners. With expertise across many industry verticals, David's background has uniquely positioned him to become a world-renowned thought leader.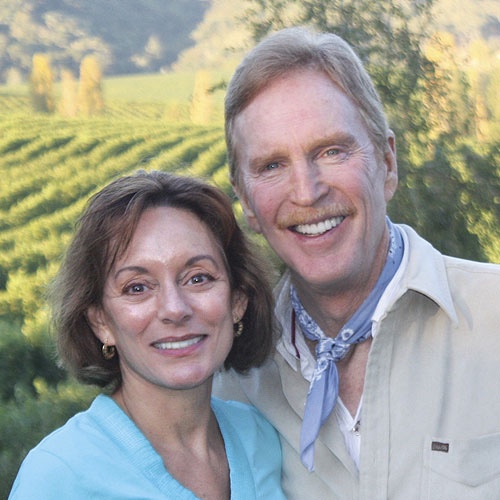 Topic: How Hardship, Hustle, and Heart Built America's #1 Wine Brand
Started in their laundry room with virtually no money and no wine industry experience, facing bankruptcy the first years in business, they bootstrapped a novelty brand and revolutionized their industry by employing innovative ideas to overcome obstacles and create new markets. Since successfully selling the brand to E&J Gallo, their passion is to share their expertise with Fortune 500s and start-ups alike to help others avoid the costly mistakes they made early on, and to spend less and monetize faster.
Green Hills Golf Tournament
A Golf Tournament is scheduled for Tuesday, November 1, at the Green Hills Country Club. 12:30 pm check-in. 1:30 pm tee time.
Green Hills is a private golf club. This in one of the San Francisco Bay Area's finest golf courses. The course was designed by famed architect Dr. Alister MacKenzie, who designed over 100 golf courses – three of such high caliber they are ranked in the world's top 20 – Cypress Point (Pebble Beach CA), Royal Melbourne (Melbourne, Australia), and Augusta National (Augusta GA), site of the Masters. Green Hills is known among golfers as being the best maintained course in the area. It is nestled amid the sun-warmed hills that separate the Pacific Ocean from San Francisco Bay. Visit the website for more information. Green Hills is the site of the 1997 MacKenzie Cup, N.C.G.A.. W.G.A.N.C. and U.S.G.A. events, and having served as a U.S. Open qualifying site, Green Hill's par 71 layout has challenged many of the world's finest golfers. Take a tour of the course.
The tournament fee is $120. This includes 2 drinks and hors d'oeuvres in the clubhouse after the tournament. There is a limit of 28 golfers, so register early. You must register by June 1, 2016.
Go to our Registration Store to sign-up and register!