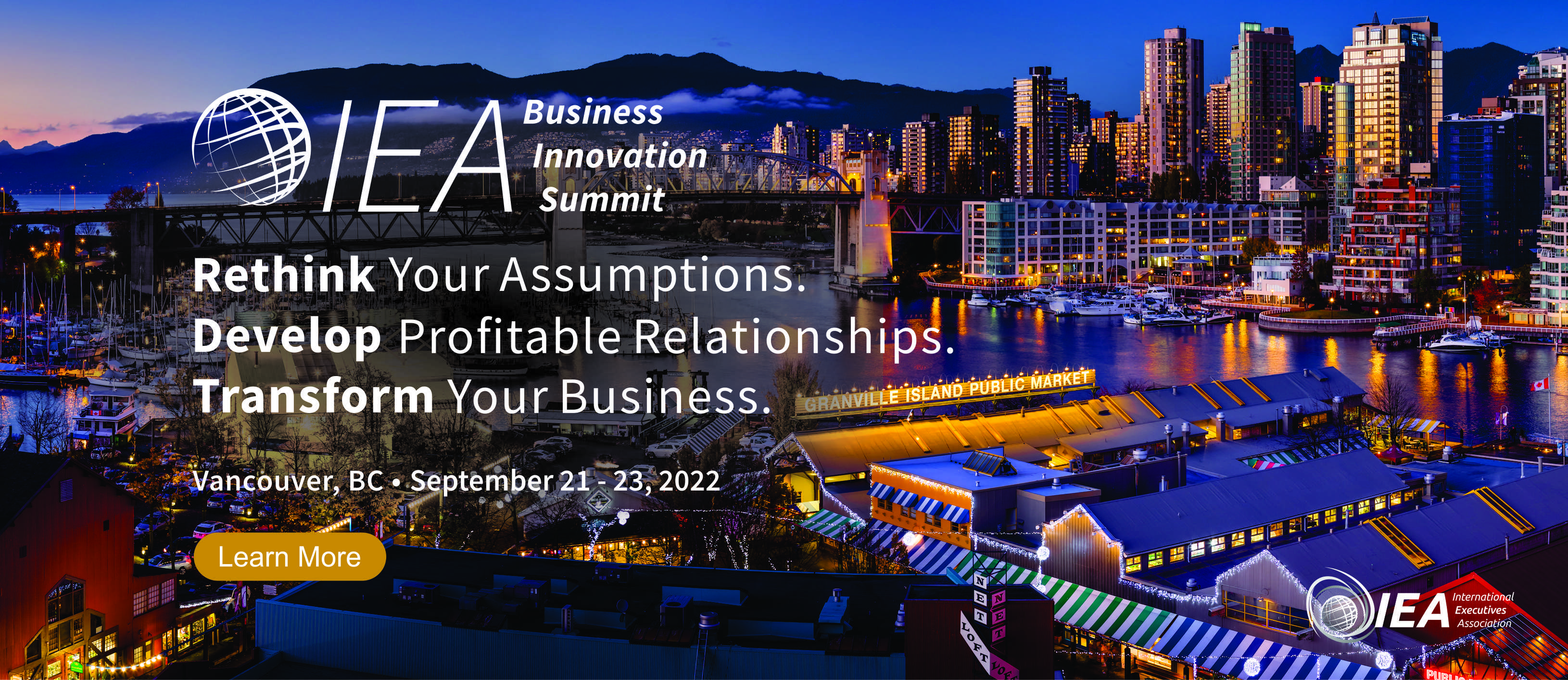 Why Attend?
The IEA Business Innovation Summit is a forum for networking and collaborating that brings together business leaders who are serious about running great companies. It will provide business executives with the knowledge, connections, tools, and strategies to move their organizations from good to great.
The event host, Vancouver Executives Association (VanEx), like other member associations in the 3,000-member strong International Executives Association (IEA), is a group of business executives who understand the challenges of growing a business. VanEx members have found significant benefit from their association and believe much more is achievable when sharing ideas and working on their businesses together.
You'll learn from the world's best thought leaders, top-tier keynote speakers who are industry experts on how to adapt to the evolving dynamics in a rapidly changing local and international business environment. Within a transformational platform that inspires innovative ideas, transforms thinking and empowers business success, your attendance will be impactful. Business leaders from across North America will come together to strategize, co-create, join forces, and share and exchange ideas.
Knowing that ideas and strategizes must be executed in order to be meaningful, VanEx is partnering with Results. They specialize in unleashing results though disciplined execution, allowing companies to achieve their strategic goals and unlock their full potential. Execution is the biggest challenge most businesses face. You'll be positioned to take the ideas you've acquired from the IEA Business Innovation Summit back to your company and implement them.
Host Venue
The world-class luxury JW Marriott Parq Vancouver is they city's premier entertainment destination, and largest conference facility in Vancouver.
This uncompromising, understated luxury property provides a personalized guest experience that is complemented by unparalleled service and enriching amenities. Anchored by Gastown and Yaletown's stylish neighbourhoods—with their fashionable boutique shopping and diverse dining—the hotel boasts a desirable location along the False Creek seawall with stunning water views and the mighty Costal Mountain Range serving as a picture-postcard backdrop.
Address

39 Smithe Street
Vancouver, BC
V6B 0R3
Canada
Conference Details
For conference details, accommodations and registration please visit the vanex site